It's sad for me to report that my looms are in the same condition as when I arrived home.  Life has gotten in the way of my plans…
While I was determining the most pleasing way to thread the pattern for the JOY (Just Our Yarn) yardage project, I had my semi-annual visit to the dermatologist and discovered that a worrisome spot on my arm had become melanoma.  I noticed this spot had changed to something of concern back in January, but I could not get to a doctor then since we had already sailed away to tropical waters.
Still, the news was a bit shocking to me.  I was already beyond Stage 1, so removal of lymph nodes was mandatory on top of removal of the offending spot which ended up being much bigger than what shows on the skin.  It's all behind me now.  I got a consultation with a surgeon at Smilow Hospital at Yale, and the surgery was only a week later.  Whew!  Two weeks later I got the news that my lymph nodes are clear and that the surgeon got clear borders around the malignant cells.
Yet I'm still not weaving…. The long cut on my arm and the smaller incision in my underarm severed quite a few nerves, and regaining use of my arm is going to take longer than I imagined.  That's a small price to pay for getting rid of the melanoma, and I can certainly knit and also do bobbin lace.  And every day I am doing arm motions to improve my dexterity.  Very strangely, I have all kinds of odd sensations in my arm all the way down to my hand:  burning, stinging, numbness.  It's very strange.
Meanwhile,  back to talking about weaving.  Diane and Cathy from Just Our Yarns gave a program to the Connecticut weaving guild last November, in which they demonstrated using two completely different handpainted yarns for warp and weft.  One of the slides showed a scarf woven with a warp of one of their skeins painted from the cool side of the color wheel–mostly blues and purples.  The weft was a brilliant contrast of oranges, yellows and peaches.  You cannot always purchase colorways that you see and like in JOY yarns since they do not repeat any of their handpainted designs exactly.  But I found two contrasting handpainted that should give a similar effect.
I chose a twill weave structure called "Raku" by Carol Bodin from the book Sixy Scarves for Sixty Years from the Weavers' Guild of Greater Baltimore.  Here is a partial view of my plan.
The long warp and weft floats should show off the color contrast of the warp and weft nicely. My warp is mostly muted greys, purples and blues, while my weft is a blend of peaches and creams. The sett will be 35 epi so those floats won't be too long.
Now, the BIG question:  Should I flip the threading at the center of the warp and have the second half of the threading lean the opposite way?  Should I flip every other repeat of the sequence??  Should I just thread the whole thing in one direction and cut the fabric and turn it as needed for whatever I end up making?
I've favored each of these ideas at different times, and at the moment I've come full circle back to leaving the threading alone.  It would certainly help if I already knew what I will make with the finished fabric.  Typical of me, I have focused on the intrigue of working with this yarn rather than what I might do with fabric.  The warp is 17″ wide on the loom and I plan to weave 5 yards.
Meanwhile, as I ponder what to do about that threading,  I've been knitting and doing some Idrija lace on a bolster pillow.  I don't even have to prop up my right arm on pillows anymore in order to knit, so I'm definitely improving.  This baby blanket is moving along nicely.  Interestingly, after looking at innumerable lace patterns, I ended up choosing a Eugen Buegler pattern.  He has designed lace patterns for many years and you can see many of his designs at the link above and on ravelry, as well as in numerous books by XRX.  He designed the first lace shawl I ever knitted, over 20 years ago.  I actually went to the local knitting store as I felt myself coming down with the flu in order to make sure that I had something to knit while I would be stuck in bed.  I still have that shawl…. in butterscotch colored, fine merino yarn from Grignasco.
But back to knitting for little baby Ozzie.  Here is the baby blanket as shown on Ravlery. It is called "Lace Plumes Baby Blanket" and is available as a downloadable pattern from Fiber Trends. Thank you, Eugen!  I'm using "Sublime Baby Cashmere" which I ordered from Jimmy Bean's Wool.
I'm now further along than this photo shows because I work on it almost every evening, and then I realize that evening is not a good time for getting a photo.
Next up will be this adorable sweater from Little French Knits on Etsy.  It's a bit feminine, but, since I am so smitten with this little gem, I am clinging to the fact that, should our little bundle of joy be a boy,  they have traditionally dressed in rather delicate clothes as newborns.  This is just too lovely to pass on. Oui?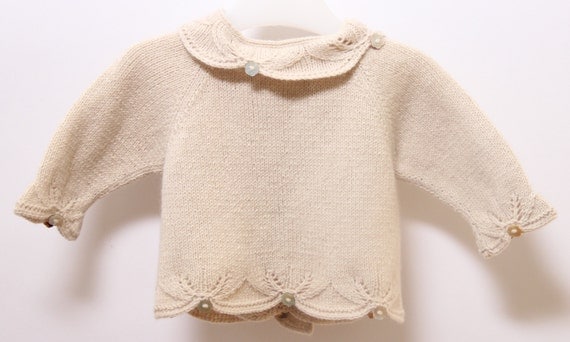 I have not yet shown a photo of the first sweater I made for our future little one.  The pattern is a design by Sephanie Pearl McPhee called Nouveau-ne.  It is delicate and fun to knit without being overly feminine.  I used Plymouth Yarns "Perlina" which is 100% merino which I bought at my LYS, Saybrook Yarns. The pattern has a matching bonnet style hat that I have finished but did not photograph yet.  There are also booties which I have not yet started.
I have little limpet shells from the Bahamas that I will use as buttons instead of what I've shown here.  I lent my stash of limpets to a friend, and as soon as I get them back I'll pick out the tiniest ones for buttons on this sweater.  I think it will be wonderful to have a little embellishment from our travels on our grandchild's first sweater.  Aren't I clever??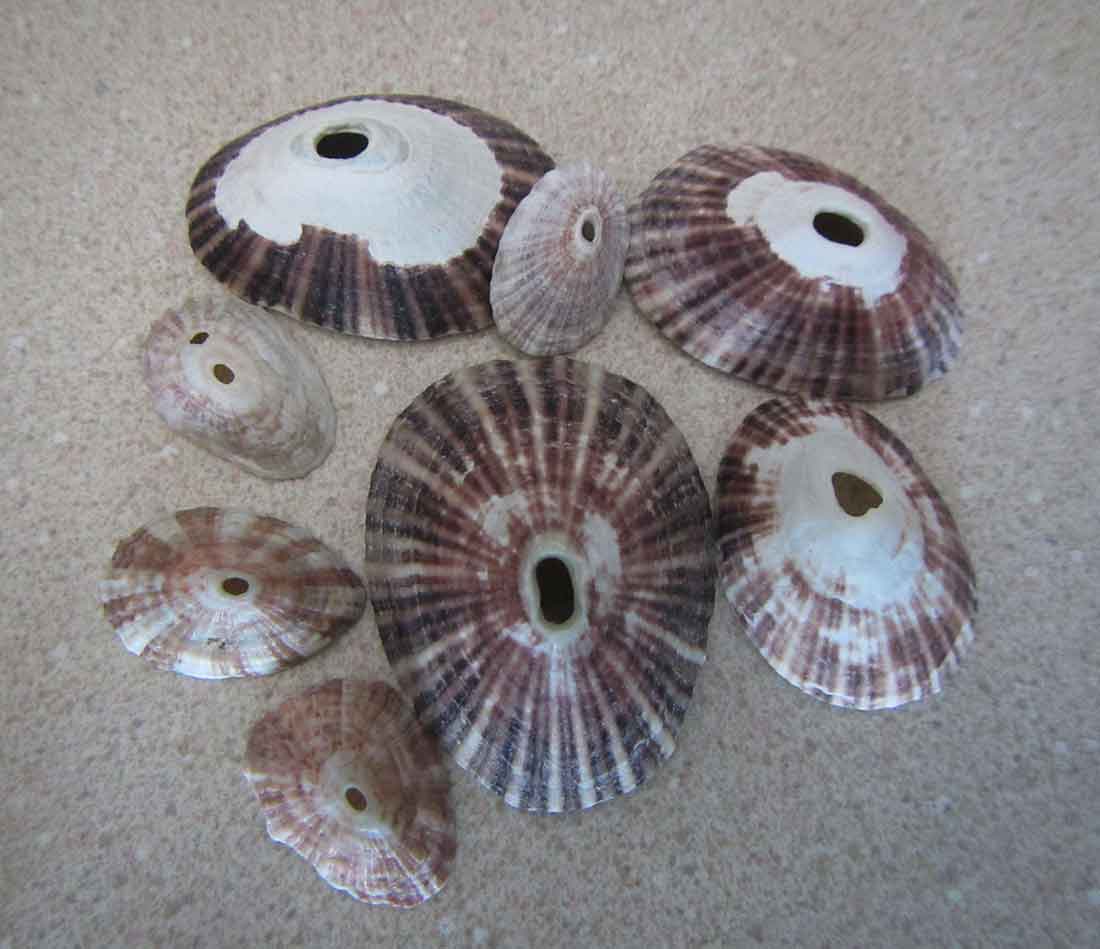 And I turned my attention back to the little Idrija lace 'doodah' that I started at the lace retreat back in May.  This little organic shape reminds me of a fiddle head fern or some kind of sea creature.  I've decided to make this two more times in a combination of blue and green.
Second fiddlehead doodah in progress.  As you can see, the piece is woven upside down. On the next version I will make the central 'squiggle' in green and the side 'squiggles' in blue.  Then I plan to attach them to one of my summer tops.  Hopefully soon!
So the past month has been taken up with the excitement of a first grandchild and the fears of having cancer–cancer that managed to progress past stage 1 before I got diagnosed.  It's been an emotional roller coaster, and as usual, handwork– mostly knitting– has saved the day.  It took a full month to get diagnosed, have an initial consult with a surgeon, have the surgery, and get the pathology reports.  Waiting may not be the hardest part of being sick, but it's certainly not easy.  Making these little projects and dreaming about future projects is what kept me sane during those long weeks.
Today I stumbled on this book of animal themed pom-poms made by a Japanese woman. She has captured the essence of each animal. After making each pom-pom with a mix of colors to imitate the animal's fur, she adds details with needle felting.  I looked for the book online, hoping to order it, but so far I only found it on Japanese Amazon with no ability to order from the US.  I shall try harder.
And here's a video of the author making a bear and teaching others the technique.
Just another little idea for Baby Ozzie to tuck away.  I hope I can find the book!