The weather has been wild in this part of the world, not unlike many places these days. We are having multiple squalls a day (and night), with high winds and torrents of horizontal rain to go with it. At night we open and shut our hatches so many times, first to get a bit of a breeze in order to sleep, then to shut things down so our cabin doesn't get drenched. We both lose track of how many times we get up in the night, and at this point we are both suffering from sleep deprivation. So, when I found this recent article from the BBC online, I could not help but notice the similarities, even a world away from here.
The article is about Ronaldsay sheep on Orkney Island just off the northern coast of Scotland. Another article called Orkney "a freckle off the north coast of Scotland." How true. Ronaldsay are small, hardy sheep who've managed to live on a seaweed diet for quite some time now, ever since the sheep owners cut the sheep off from pasture.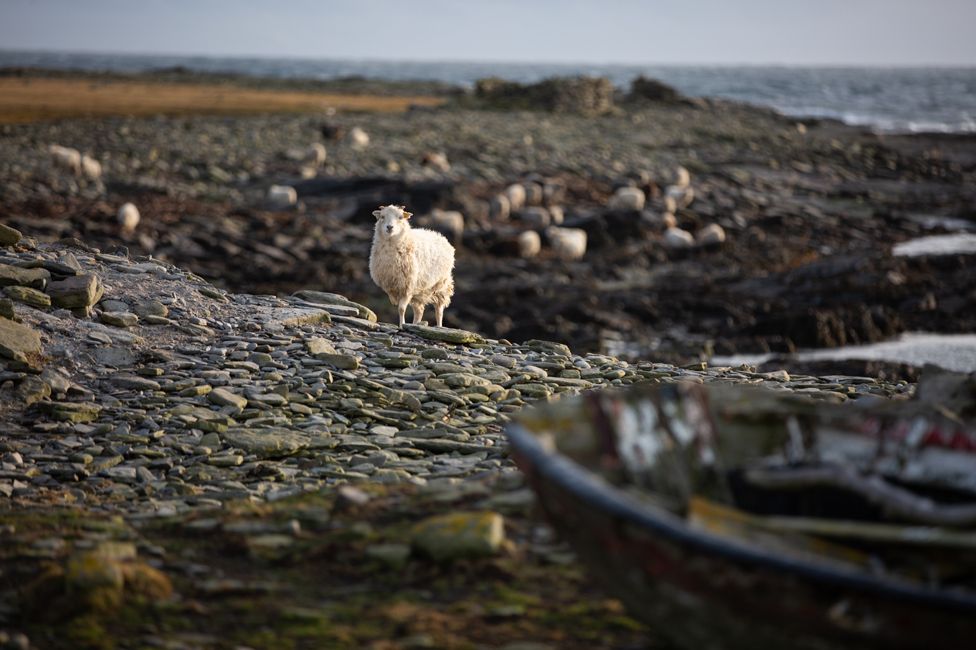 Cute sheep, isn't she? About a decade ago I ordered a kilo of white Ronaldsay fleece from Elizabeth Lovick on Orkney. She has a venture called Northern Lace, and she teaches and designs knitting patterns in traditional Orkney lace work. It took a long time for my fleece to arrive. When she mailed it, she mentioned that I might never get it, if US customs should deem it unsafe. Well, it did arrive, and I enjoyed the process of washing and combing it before spinning it. When at last I had a medium weight, 3-ply yarn, I knitted it into a fisherman's gansey for my younger son Chris. No, it's not traditional. The yarn was, but I made up the sweater pattern myself, attempting to satisfy Chris' needs and style. At the time he was an undergrad student in Rochester, NY. Later he took the sweater, along with several pairs of wool socks that I also knit for him, to Manhattan while he continued his studies there and then worked for a few years. At one point, he lived in an unheated hallway in Chinatown (yes, he paid rent for this dwelling; yes, it was illegal). That sweater came in handy for a few years. Now he lives in the Bay Area has no need for such a garment!
But back to the sheep. Close to 200 years ago, the sheep farmers built a stone wall around the entire perimeter of the island to keep the sheep on the beach so that other livestock could feed on the pasture. The sheep have become accustomed to, and have actually thrived on, their seaweed-only diet. Occasionally a sheep will get through a broken or weak part of the stone wall, and you know if one sheep gets out it's not long before they are all out.
The article is about the new sheep dyke warden/shepherdess who's been hired to maintain that wall and keep an eye on the sheep, as well as what scientists are learning about a seaweed diet. It turns out the seaweed-eating sheep do not emit methane when they belch. It turns out that methane gas is 30 times more harmful to the environment than carbon dioxide. Think of all the ruminant livestock throughout the world, adding so much methane to the environment. While it's certainly not a cure-all for our problems, it could be one of many efforts to ease things. These diminutive sheep have led scientists to research the possible benefits of adding seaweed into more livestock diets. The North Ronaldsay Trust began looking for someone to fill the position of sheep dyke warden during the past summer, 2019. Sian Tarrant who is from East Sussex, and has a degree in marine biology from St. Andrews, seems to fit the bill. She wanted the job, and the island folk wanted her. She has already worked on a number of National Trust projects, recently studying seals on one of the uninhabited islands in the Orkneys as well as in the sub antarctic off the coast of South Georgia. Want to read more about this interesting woman? Here you go!
All this makes me want to comb and spin some Ronaldsay again. This time, I'd go for the darkest brown fleece. Maybe I would use it for tapestry. So many ideas, so little time! Meanwhile, the wind is howling here on this Sunday afternoon. We won't get frostbite from it, or die of hypothermia, but it is still pretty extreme weather.