For some, summer ends this weekend. I'm an equinox/solstice season follower, so it will be summer until September 21.
This summer has held some wonderful distractions. I've missed my weaving guild meetings during our summer hiatus, and I missed our regional conference too….but other things have called my attention and been incredible opportunities.
The biggest event of my summer happened just earlier this month. A friend of mine who now lives full time on the Cape (in what was previously her summer home), invited two of us rather old friends to spend a week with her studying with a well known Sailors' Valentine designer. Full disclosure here: I am not a huge fan of sailors' valentines. They are overly fussy to me, and it's hard for me to take in so much visual busy-ness. But there are also shell compositions that evoke garden scenes, or flowers in a vase. Those really get my attention. This small arrangement really pulled me toward wanting to try my hand at some shell designs.
We spent 4 days learning to make a few flowers under the tutelage of Sandi Blanda, in order to create our own floral designs. Here are a few of the flower techniques. We were using E5200 glue, applied with a toothpick or bamboo skewer.
You have to make a lot of flowers to create a design! You need more than you'll actually use just so you have some possibilities for arranging. At this point I felt mine design was ready to frame under glass in a shadow box. I did not want the look of a vase of flowers; I was trying to achieve an underwater garden of things growing out of a shell and bending in the current.
My more experienced friends made beautiful flower arrangements in shell vases.
One of the afternoons we took a break to visit the Sailors' Valentine exhibit at the nearby Cahoon Museum. This is shell extravaganza!
Now you'll get a good sense of how many tiny shells it takes to make just one flower in these elaborate valentines! Egads!
This is just a small section of a large valentine. It just boggles my mind that someone could make something so intricate!
For many years, people thought sailors made these valentines for their sweethearts during their time onboard, much like the ivory work and Nantucket baskets made during this same time period. In recent years it has come to light that many of the shells used in these designs came from Barbados, and often the valentines were wrapped in newspapers from that island. It now seems more accurate that islanders made these elaborate shell arrangements, and sailors bought them for their loved ones.
The exhibit at the Cahoon, which ends tomorrow (Sept. 1), features traditional valentines as well as the work of some talented current shell artists. Our teacher was featured in the exhibit, and she has a solo exhibit in one of the upstairs galleries.
Sandi Blanda is in the center of this photo, showing us something on her ipad while we admired one of her pieces in the main gallery. My friends are experienced basket makers too. Take a look at their wonderful Nantucket tote bags!
This type of shell work is incredibly fiddly–as you might imagine! It was tremendous fun while we were together. The thought of tackling another, especially on my own, is a bit daunting. I don't know if I'll do it again. Meanwhile, here it is, framed under glass.
During the rest of this month I've been sewing. Yes, sewing. I'm not terribly proficient at it in spite of learning when I was about 12, and in spite of having two grandmothers who were quite excellent at it. I'm ever hopeful. I have some wonderful handwoven fabrics, and someday I hope I'll be wearing them as garments.
My local sewing shop has been offering some classes in fun techniques and a couple of cute shirts patterns. Both shirt patterns are from The Sewing Workshop.
The London Shirt is one that I've now made four times. I love it! In my favorite version I used a French fabric–a lightweight linen print that I bought in Martinique.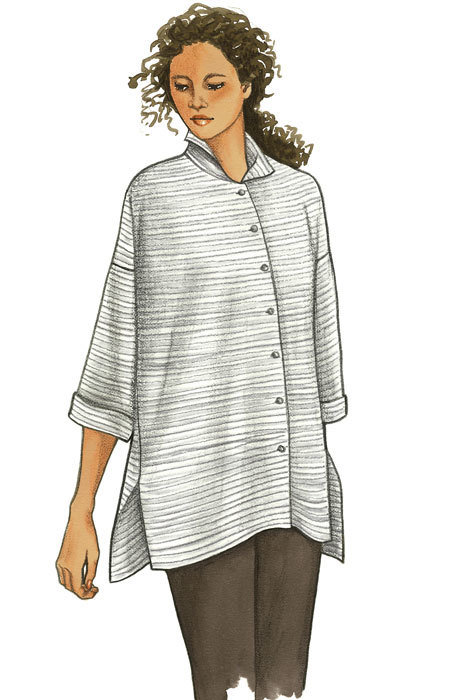 And the other is the Liberty Shirt that I just finished last week. It has a bit more fiddly construction.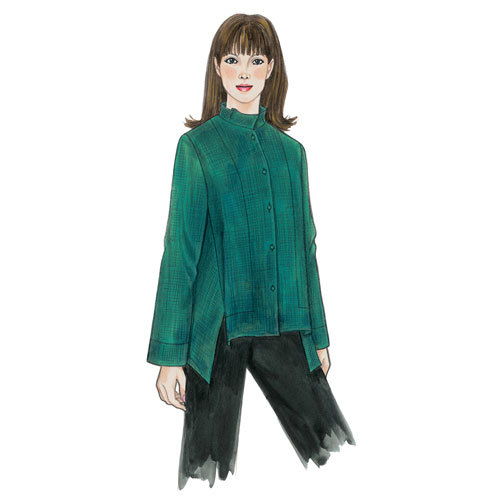 Someday I'd like to make a little something out of any one of my handwoven fabrics, but I'll need a lot more practice sewing first…
WAIT!!! How could I forget that there is one more BIG thrill to my summer! Tomorrow I'm leaving for two weeks in France! At the top of my must-see list is the "Unicorn in Captivity" series at the Cluny Museum*, followed by the Bayeux tapestry on our excursion to Normandy. I will also see lace in Bayeux and in Alencon, and a couple of special haberdashery shops in Paris (what I would call notions shops). I can't believe the time has finally come to have this adventure! I'll be taking my Liberty shirt and three of my London shirts. In fact, I'm calling the one made with French fabric my "French London." I can't wait to have an end of summer fling in France!
*Oh boy, was that a senior moment! Not my first either. The "Unicorn in Captivity" is the title given to the last tapestry in the set at the Cloisters, which is known as the "Hunt for the Unicorn" in its entirety. I've known this forever …..so why did I have that little brain malfunction? The set at the Cluny is called the "Lady and the Unicorn."