Dear Reader, are you a knitter? Were you shocked when you learned that the most creative knitter of all time, Cat Bordhi, passed away in September? I did not know she had been living with cancer for some time. I did not know that she was 69. She's the most youthful 69 year old I've ever seen, and I think that must be because of her inquisitive nature, her drive to find new ways to achieve results in knitting. Her creativity makes my brain hurt, but I'm always so happy and intrigued to try her techniques.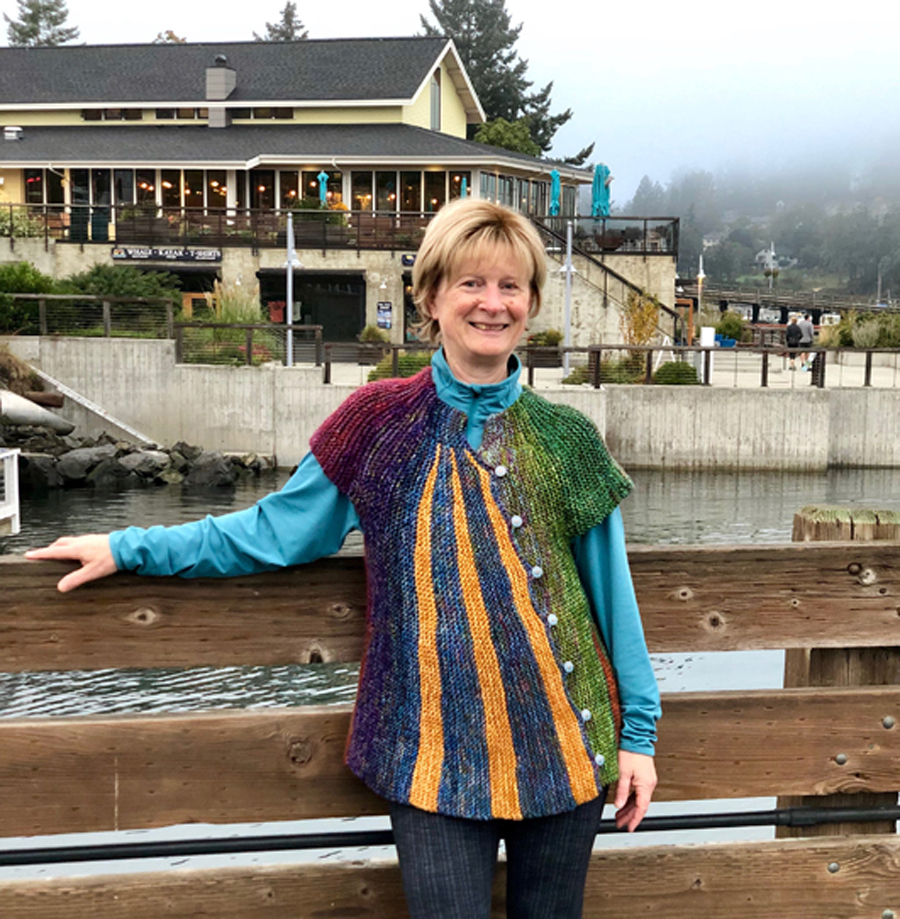 Recently, I got another shock from the knitting world. Annie Modesitt also passed away, on October 1. I knew she'd been dealing with overwhelming health issues for many years, both her own as well as her husband's. Two knitters of such immense creativity are gone.
This year has been stressful for everyone between the pandemic, the world political situation, advancing climate change issues, and our own presidential election. My best stress reliever is always doing something textile-related, having thread or yarn in my hands–weaving, knitting, embroidery. That's the main reason I wove two sets of waffle weave face cloths, and now have a set of eight kitchen towels on my small loom. On Monday I saw Amy Singer's tweet about having a knit along to relieve our election anxieties. She offered a choice of three knit designs or mentioned that any of us could just knit something, anything, together. And that's when I knew I had to knit at least two of Cat's 'anemone hats.' The first two would be for my granddaughters, Tori and Emme. Maybe I can even knit one for Rhett without the moebius brim. Outrageously cute, right?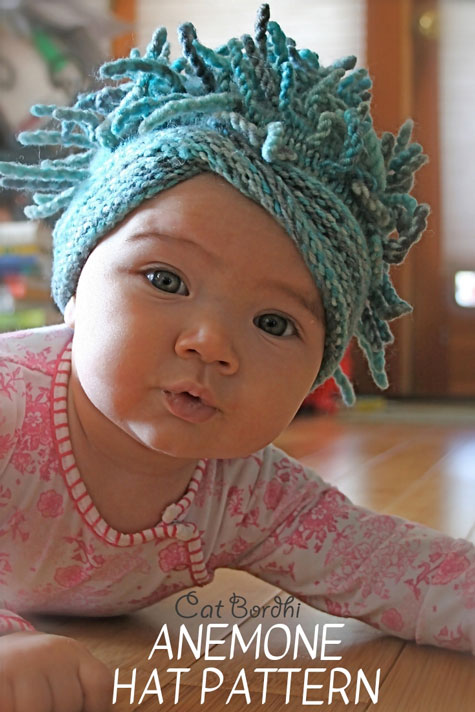 I ordered lots of yarn for these hats because I also want to knit two adult hats, even though I have no particular recipients in mind.
The yarns I've ordered so far are from Lorna's Laces, called "Shepherd Worsted." The yarn for the adult hat, pictured on the left, is a color called "black pearl." It will be hard to give that hat to anyone but me! Can you see the little amethyst stitch markers on the needles? They are from Twice Sheared Sheep, my favorite source of stitch markers and row counters. They came in the adorable tin on the right side of the photo. I have a couple colorways of Malabrigo yarn waiting in a shopping cart for a few more hats.
So knitting has been my 'go-to' for a good deal of each day this week. Most of the reason for that is there is a mistake on the kitchen towels I'm weaving! It's a weaving mistake, so all I should have had to do is UNweave by treadling the sequence backwards. But life can be full of limiting conditions, and here are mine:
–My Baby Wolf has the combby dobby head attachment, and the reverse button does not work, and supposedly cannot be fixed.
–I use Fiberworks PCW, and I should be able to ask the program to weave in reverse, but I haven't had luck with that. So I have looked for the place in the pattern where I can weave forward and yet be UNweaving what I did. I am using an Ms & Ws pattern (Strickler 314.5) that reverses, so as long as I'm weaving forward in the part of the pattern that is the reverse of my problem area, this should work. And it does work. I've now UNwoven twice without a hitch. It's when I begin to go forward again, finding the place that goes forward from where I left off, that hasn't worked.
After two reversals and two botched forward attempts, I walked away from the loom in a snit. That was about 2 weeks ago now. With all the other anxiety-producing stuff going on, I was not in a good place for tackling this. I think I've recovered sufficiently, mostly from knitting all those squiggly anemones, to tackle this again. I'm headed to the loom shortly. Wish me luck!
I must share a perk from this week of stress. A friend gave me a big treasure box of antique and vintage linens. Oh my, oh my! I've been swooning over the contents for two days now. I've dealt with the stains that mostly came from years (and decades) of being stored on wooden shelves that allowed tannins to migrate into the linen. So I have soaked some of the items in Oxyclean and then washed them in the machine. There are tablecloths and napkins, large linen bath towels, handmade bobbin lace edgings on doilies, and even linen bedsheets embroidered in pulled thread designs with satin stitch monograms. Three of the bedsheets are a stunning peachy-pink. I feel weak every time I look at these treasures!
This looks like Portuguese embroidery to me. Want to weigh in? — please get in touch! I have two of these tablecloths, and 12 coordinating napkins. One cloth is sized for a small table (72″), and the other is probably good for sitting 10 or 12, at 120″. I hope I get to try the large tablecloth someday. I wonder if we will ever have large dinner parties, or holiday dinners in the future. I hope so!
There are eight of these beautiful placemats. They have no stains, so all I had to do was iron them.
There are three of these large linen bath towels. There are tannin stains on at the folds. I have soaked them in a mild solution of Oxyclean and warm water overnight, and then run them through the normal machine cycle on warm wash, cold rinse. They are significantly better, but not yet perfect. Maybe 'perfect' is not attainable; maybe that's okay.
Keeping my hands busy is definitely helping this week, especially learning the wonderful moebius cast on, knitting, and binding off, of Cat Bordhi's fun anemone hat. I hope your hands are busy too! — in a good way.