Today is Tuesday, August 2nd, and Convergence, the biggest gathering of weavers in the US,with lots of attendees from overseas as well, began over the weekend.  Facebook is full of posts from the many participants.  Do I feel left out?  Well…..maybe… just a little.
My tiny part of the world had its own weaving weekend though. On the hottest Saturday of the summer (so far!) members of Area 4 of the Handweavers' Guild of Connecticut had a beautiful display and did demonstrations of weaving and spinning at the Historical Society during Old Lyme's 30th annual Old Lyme Festival.  It was steaming hot, but we all had a great time.  We heard that we were the most popular event at the festival, and I have to admit that I've never seen such a crowd at any of my past demonstrations in New Jersey.  Although the historical society headquarters are not yet air conditioned (supposedly next summer it will be), I wonder if being in an historic grange building with lots of fans (that would be rotating, air circulating fans–not enthusiast fans!) was still more enticing to the hordes than being outside in the 90-degree sun.  Or maybe we just really were a compelling option for visitors.
The local online newspaper, The LimeLine, covered our event and got a shot of our group working on the behemoth, 9-ft Clemens loom.  I think this may be the moment when Jody (in the b&w stripes) began the tedious process of mending broken warp threads. She generously allowed visitors to try a bit weaving at the loom, and there was an incident of over zealousness that led to some broken warps.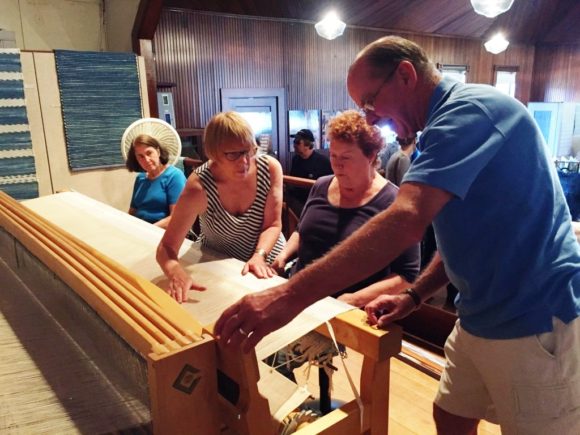 These photos of our exhibit are pretty pedestrian.  I'll just whine and say that I was very busy spinning!  It's not a real excuse, but I hope you'll accept it. This is just part of a display of our members' work.
Stephanie has a business making rugs and blankets of all sorts and teaching classes in both techniques.  She brought a loom to demonstrate weaving and had a lovely array of rugs for sale.  Right next to her is a rack of her indigo dyed shibori silk scarves.
I know there are lots of better photos taken by others, but I haven't see them yet, so these will have to suffice for now.  It was a very worthwhile event.  The folks who run the festival said we were the most popular participant, and they hope we will continue to be involved in the future.  And knowing this building will be air conditioned next year makes us all think, oh yeah, we'll do it!
The next day a few of us drove together up to Kingstown, Rhode Island, to take a look at the extensive weaving stash of our dear friend, Kathi Spangler, who passed away a few weeks ago.  She has been on my mind so much this summer.  When I went to see Kate Barber's exhibition in Providence, I realized we were so close to the convention center where the last Convergence was held.  When I left the gallery where Kate's work was on display, the first corner I walked to had the building where ATA housed our tapestry exhibition two years ago.  Kathi wanted to make sure that visitors to Providence would know they had reached a building with a weaving exhibit inside, so she filled all the large main floor windows with works by Rhode Island weavers.  It was quite dramatic and such an undertaking to gather all the woven items and display them so creatively.  I had a strong sense of her presence as I stood at that corner remembering the scene from two years ago.
At Kathi's house, Susan, Sandy, and I spent a couple of hours looking through Kathi's handwoven fabrics.  Some things were finished items, like hand towels, scarves and shawls, and table runners.  I was intrigued with several lengths of fabrics woven for samples of techniques.  This one in particular caught my attention.
Sharon and Jan who had organized all of Kathi's stash and who were on hand to let friends in to look through Kathi's treasures, said this piece was called the 'chicken project.'  Boy, I am SO curious about that.  What comes to mind is that the color of golden yellow is rather like a baby chick.  Sometime I'll have to ask Jan how this project got its name.
I took a wonderful table runner in natural linen with a bit of overshot in red at each end.  I found two more runners in the same pattern with forest green at both ends that I took for Jody.  Kathi had a lot of beautiful sample pieces, and I wonder how many of them became finished projects.  The red runner underneath the overshot runner has Christmas trees in huck lace.  It just needs hemming.
I was so moved to see that she had finished her wonderful jacket from Sarah Fortin's workshop.  Jan and Sharon had thought to put it on a dress form for visitors to see.  Why didn't I photograph it?  Of course, it turned out beautifully, and I hope Kathi wore it a few times before she got too sick.
Speaking of yardage, I am very close to finishing my JOY project.  I rewarded myself with about an hour of weaving today after working on Archie's book.  It is really stunning fabric, and I will cherish it even if it never turns into a garment. Those JOY women, Diane and Cathy, have really created something wonderful with their line of handpainted tencel, and using these yarns as both warp and weft is amazingly dramatic!  Weaving it has been very therapeutic, as weaving should be.
I neglected to mention what I'm dreaming up for my next project!  Sharon has shared with me all the details that her Rhode Guild has discovered about weaving and constructing an origami top based on Virginia West's examinations of garments constructed from narrow widths of cloth used diagonally.  I have an assortment of fine silks that I will soon make into a warp.  Photos to come.