This year I decided against registering for NEWS, New England Weavers' Seminar.  Instead, I thought I would make a day visit and include some good friends from my old stomping ground in New York and New Jersey.  I would give them a little taste of NEWS just before their own regional conference, MAFA (Mid-Atantic Fiber Association) began.
Here we are at the end of the day….a bit worse for wear, but so happy to be together and to have been so inspired by all the exhibits at the conference.
We had a terrific time at NEWS, although I did feel a twinge of regret when I saw that Margo Selby was offering a class in double weave.  Take a look at the work she exhibited in the faculty show.  Who wouldn't want to study with her??
Maybe I should start with the faculty show… This is Barbara Herbster's work.
This is a repweave table runner by Lucienne Coifman from my own guild in Connecticut.  She is a superlative teacher, and someday I hope to study rep with her.
The Gallery Exhibit is always exciting, and I was particularly excited this year!  I won 5 awards for my tapestry "Sunset on Wilson Cove."  It is most likely the last time I'll exhibit this piece so I was pleased that it had quite a swan song.  The three awards that blew me away are "1st Place Tapestry and Transparency,"  "Judges' Choice," and "Peoples' Choice."  I am thrilled!  The other two are "First Time Entrant at NEWS" and "Best in Tapestry from the Textile Arts Center." Can you tell how happy and surprised I am!
We all loved the upholstered footstool right below my tapestry, woven by Susan Wright. What great use of color.  It's a beauty.
This stunning runner caught all our eyes.  Ruth Buchman manged to create a threading that is mirrored but gives such sense of assymetry.  Then her color choices were superb–greys and blacks with just the right touch of yellow that also gave a strong impression of assymetry.  So the piece has a calm balance in color and weave struture while also giving the impression that it is not symetrical.  Brilliantly done!
This is another of Ruth's pieces in the gallery exhibit.  Stunning doubleweave.
This is Sarah Fortin's double weave fabric.  I have no idea how she gets some areas to pleat and rise off the flat surface of the background fabric.  Beautiful colors and beautiful weaving.
This piece by Suzi Ballenger is stunning!  It has silk cocoons attached to it and the weaving was done with her open top beater tool that allows you to move warps, which creates the warp undulations in the fabric.
This fun–and beautiful– bag, called "Take Me Shopping" is by Karin Borden.
There was also a special exhibit of Mary Merrill's tapestries woven over the decades from the 1950s when she began weaving until her death in the 1999.  Her family generously shares her work at gatherings like NEWS.  Look how fresh and lush her colors and her shape making are in these two works.  This was when I wished I could be at the conference for the entire weekend, so I could come back and visit more than once!
I've only been to NEWS twice now, and both times I have to say that my favorite displays are the guild tables.  Unjuried though they may be, the work is excellent, and both times I've been so inspired that I simply cannot take it all in.
Each guild chooses a theme for their display.  This year one guild did textiles inspired by Frank Lloyd Wright, another displayed projects woven by one of their members who has passed away, and another guild woven projects based on personal memories.  There was a guild whose inspiration was gardening.  I have a photo of a curtain called "Spinach and Blackberry Salad" from that display. Our guild did a display of handbags based on the project that Area 4 did last year of weaving lunch bags and matching napkins to coordinate with a mug that belonged to someone else in the group.  It was a grab bag choosing of mugs, and then you designed and wove the lunch bag and napkin to give the member who owned the mug  you selected.  It was such a wonderful way to weave for someone else, and it honed our design skills along with our weaving skills.  My lunch bag was not part of the display since I gave it away last summer, but I have been so intrigued with making bags lately that I submitted my newly finished large tote bag for this display.  My photo makes the bags look like a bit of a jumble, and the lighting was harsh.  It was actually far more striking than it looks here.
Connecticut Guild's display of Area 4 lunch totes and handbags.
The Frank Lloyd Wright display.
I think the next image may have been from a picnic themed project, although if so, I missed reading the details of what this group's theme was.  Lovely weaving!– a basket tote and a handwoven band for your stawhat.
"Spinach Salad with Blackberries" from the gardening inspired display.
Stunning tableware woven by Jo Ann Miner.
None of us supported the vendors as we should have.  I hope they fared better with other visitors.  I was looking for some fine silk to add to my upcoming project for plaited huck blouse fabric, but  no one had what I needed.  I have some fine tussah silk from my stash as well as some silk I got last summer at Convergence from a vendor called "SanJo."  I want to get the warp on sometime in August so I can get the fabric woven in time for a workshop in October with Sarah Fortin on sewing with handwoven fabric.
Why am not tackling that warp sooner?– BECAUSE we have our son's wedding in less than three weeks!  I am feeling rather confident about my two wedding projects–the ring pillow is done!
And here is my wedding outfit.  The blouse is a vogue pattern for a boatneck tunic sewn by a wonderful seamstress in Amston, CT.  I then embellished it with silk ribbon embroidery to coordinate with the brown silk pants.
Want to see a closeup?  I'll take that as a 'yes.'
And to top off the outfit I am having some ballet slippers embroidered by a woman in Altanta who has an Etsy shop called AJuneBride.  My shoes will look something like this.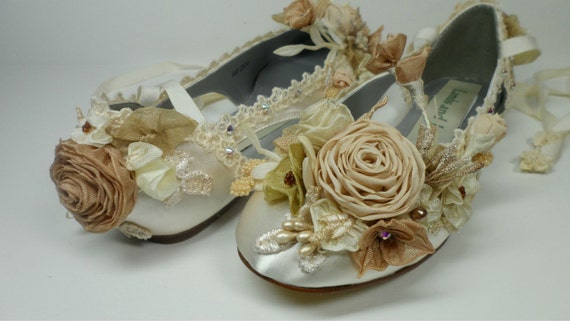 Well, I let this get absurdly long so I'll stop for now even though I had lots more to say…  next post.